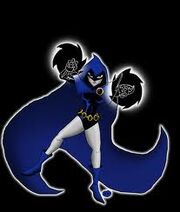 Umbrakinesis is the power of controlling darkness (also known as negatively charged particles), with the mind. The user can make the dark object soild for combat, and it can make the user pure dark energy. The technique can also be used to control shadows and darken places that are bright like a light room. This involves negative energy. Users can also move physical objects by moving their shadow.
Summon negative energy
Edit
To use negative energy, you need to learn how to summon it first. Feel out the Psi in your body. Now begin to think of feelings that strongly anger you. Also think of things of evil (demons, vampires, etc...). Now picture all those thoughts spreading out of your mind and creating a coat around your body. Now use the Psi Flame move so that your Psi has to pass through the coating. As it does, picture the coating changing the colour of your Psi to a dark purple or blue. You have summoned negative energy.
Exercise One: Negative Ball
Edit
So first, you need to summon negative energy. What I found that works best is to be mad but calm and increase those negative feelings torwards the person, thing, or whatever you're mad at. Then, try to make a negative energy ball which I feel is freezing cold but not like cryokinesis. Finally, insert the negative energy into your body. What I found was that inserting energy into your body makes production of the dark energy faster and easier (it also makes negative feelings no longer needed) ,but inserting this energy into your body makes you feel colder. Repeat this process until you can make a negative energy psi ball.
Exercise Two: Scream of Rage
Edit
Power all of the negative energy you have gathered into your palm. Focus all of your hatred, rage and negative energy into a Psi ball. If you are friends with your opponent or know them well, try to focus one of their fears into the ball as well. Finally scream and shoot it at your target.
Exercise Three: Beam of Despair
Edit
Draw energy from something dark and let the negative energy flow throughout your body for a while. After you get used to having a lot of negative energy in you, move the dark Psi into your hands. The fire it like a Psi Beam while you yell.
Exercise Four: Grudge Settler
Edit
A word of caution: this move is powerful and dangerous. Use only as a last resort. First, convert all your energy into negative energy using the Negative Conversion technique. If you are out of energy, use either the Negative Energy Gather technique or the Dark Drain ability. Shift the negative energy to your hands and raise them above your head. Create a large Negative Ball using the negative energy. Don't stop increasing the ball's size until it is very heavy. Picture it as a bomb. This will make it unstable. Hurl the ball at a target or at the ground. There will be an explosion of negative energy, hurting you and all others in the blast radius.
Exercice Five: Dark Drain
Edit
Grab someone and visualise roots, made of your negative feelings (your hate, your anger, your sorrow etc.) and hanging off your hands, jabbing into them. The roots whip around their body, taking energy and draining it. Visualise the energy flowing into you through the roots. When you have gathered enough energy, let go. You will feel refreshed and they will most likely feel dazed.
Exercise Six: Negative Conversion
Edit
First, gather some non-negative energy. To rephrase, energy of any kind other than negative. Move it to your chest. Now, transfer any negative feeling you have to your chest. Sadness, anger, hatred, fear; all of them are going to be shifted. Picture the negative emotions as a purple or blue gas. Visualize the energy being tainted by the gas, becoming either a dark blue, indigo or violet colour. The energy is now negative energy.
Exercise Seven: Dark Transformation
Edit
Similar to Dark Sonic, Dark Transformation turns you into a dark form of yourself. Channel PSI Energy to cover your body. Program it to double your speed and strength. Then cover yourself in Negative Energy. See it tainting the PSI Energy on you, turning it Pitch-Black. You have Dark Transformed. Post me if it works.
Exercise Eight: The Negative Abyss
Edit
Gather a huge amount of negative energy, compress it into a circle 1 meter in width and length. Now, start imagining all the energy around you being sucked in. Soon, you'll have a mini-sized dark hole in front of you.
Exercise Nine: Dark Sap
Edit
Take any living thing (plant, animal, or human) and see a cord of purple energy coming from your victim and into your hand and just sap the energy from them. I visualise it like this, see the victims aura and as you sap the energy see their aura reducing until all of it is gone.
Exercise Ten: Shadow Traveling
Edit
Be in a shadow and picture the location you want to go to. Then Visualize a tunnel and feel Negative energy around you like you disappear kinda like Invisibility.Then you Visualize yourself walking to the end of the tunnel. When you reach the end open your eyes and you might be at the location. This takes lots of time, patience, and practice. A lot of psi negative energy will help takes a little bit more than grudge settler.
Exercise Eleven: Heartless Angel
Edit
The purposes of this training are: 1. To reveal the evil in someone. 2. To destroy the goodness in someone. To do this visualize the target's heart as a holy glowing shape. Then visualize darkness in the core of the heart. Next see it glowing darker as it covers and destroys the lightness in the heart. Then visualize it acting negatively. To use purpose two do the same but instead see the holy creature being destroyed by the darkness as it covers their whole form, therefore banishing the holy creature from existence.
Exercise Twelve: Moving Shadows
Edit
Sit or stand somewhere and have an object infront of you that has cast its own shadow (if you dont want to do that you can use your own shadow for this lesson.) Now let your psi energy out and let it soak into the target shadow so that it is molded with it. Now, create a "wire" of your psi energy connetced to the one in the shadow so that you are going to be moving the shadow like a puppet. Now once the string is attached, let your mind control the shadow with the "wire" that you created with your psi energy. This may take some time to get it right, but dont try to hard becasue if you do it could cause a strain on your mind which could result in very weak shadowkinesis for a couple of days.
Subliminal Video for Umbrakinesis/photokinesis training