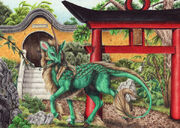 Hello, I am horsyqueen a telepath and psychic teacher. If anyone needs help i am happy to help anyone.
My abilities are:
Telepathy
Empathy
Clairvoyancy
Psychometry
Astral projection
Biolocation
Earthric projection
Energy manipulation
Meditation
Spirit diving
Scanning
Kinetic type abilities
Divnation
Spells and rituals
Seeing spirits and ghosts
Seeing energy
Psi vamp.
If wishing for a fast way to contact me my email is horsyqueen896598@hotmail.com

Thats all i can think to say but thank you for reading! :)