*̣̥☆·͙̥‧❄‧̩̥·‧•̥̩̥͙‧·‧̩̥˟͙☃˟͙‧̩̥·‧•̥̩̥͙‧·‧̩̥❄‧·͙̥̣☆*̣̥Agh. Christmas is here. Depending on who you are it can mean a many of things.*̣̥☆·͙̥‧❄‧̩̥·‧•̥̩̥͙‧·‧̩̥˟͙☃˟͙‧̩̥·‧•̥̩̥͙‧·‧̩̥❄‧·͙̥̣☆*̣̥
It could be a time to spend with your family, eating dinner amongst loved ones, catching up on events you've missed. The elated feeling of seeing them after so long, then after a short 3 hours the desperation hoping that they'll hurry and leave. (It's natural.)
Perhaps the day is one you'd rather spend in seclusion with your amor/amora. Just going to the movies and snuggle up with one another during the most chilling of seasons, no matter where you are this time calls for some snugglin, or hell staying at home doing the exact same.
Some fortunate enough to awake after a long enduring night, hoping to see that toy or game or pair of shoes or jewlery, or new phone that you've been dying for for the last year... Don't let it escape you, don't rush it. It's all you'll be wishing for in due time.
The season of love, care, musical cheer, heartwarming movies, heart racing basketball games, carolers and all that good eggnoggy Fruit Cake peppermint Santa snowy goodness.
No matter who you are, Christmas is a time we all wish for a little more than what the rest of the year has to offer. All leading to the very last, and first holidays of the year.
To all of you our there, I wish you love and cheer. To care for one another, and again for next year.
*̣̥☆·͙̥‧❄‧̩̥·‧•̥̩̥͙‧·‧̩̥˟͙☃˟͙‧̩̥·‧•̥̩̥͙‧·‧̩̥❄‧·͙̥̣☆*̣̥Don't sleep on this time, and when it ends please don't fear.*̣̥☆·͙̥‧❄‧̩̥·‧•̥̩̥͙‧·‧̩̥˟͙☃˟͙‧̩̥·‧•̥̩̥͙‧·‧̩̥❄‧·͙̥̣☆*̣̥
A Joyous good Holidays, and something that rhymes with the rest of that junk.~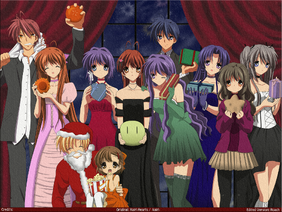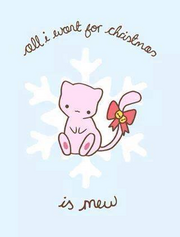 'A Very Merry Christmas from H'orsyqueen to all on the site!
<-----Horsyqueen's photo for you guy's!
Why not add the most tear inducing anime to the mix!
That Clannad's all me Lass and Laddies~---->
Sorry if it's not as festive as it should be. Have a Kick-Ass ~ΜᎧrRγ сняᎥᎦτмᏜs*~!!!!!! From Arro~
Ad blocker interference detected!
Wikia is a free-to-use site that makes money from advertising. We have a modified experience for viewers using ad blockers

Wikia is not accessible if you've made further modifications. Remove the custom ad blocker rule(s) and the page will load as expected.